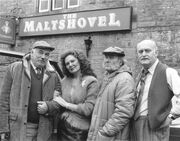 The Malt Shovel, now named The Malt, is Emmerdale Village's other pub, although it has been hinted as being in Robblesfield, probably near the border. Throughout the 1970s, 1980s and 1990s the landlord was Ernie Shuttleworth and he often got up the nose of Amos Brearly, the landlord of The Woolpack, the village's main pub, or "The superior one" according to Brearly.
Until 1980, village gamekeeper Seth Armstrong was a regular drinker at The Malt Shovel. He swapped it for the The Woolpack. When he did, Tom Merrick called him a snob for deserting the Malt Shovel. Upon Tom's return to Beckindale in late 1980 he mentioned the service was quicker in the Malt Shovel of which Amos replied "That's beacuse they have less customers to serve down there".
Until early 1995, it was said that the infamous Dingle family drank at The Malt Shovel, hence why they were never seen in The Woolpack. The Dingle's were aupposedly banned from The Malt Shovel.
History and Facts
The Malt Shovel was built sometime before 1900. In 1943, Ernie Shuttleworth took over as the landlord. He later installed a jukebox.
According to Diane, the Woolpack was quiet as the Malt was having an anniversary do (episode 7402/7403).
1972-
In 1972 Ernie Shuttleworth had been the landlord for about 30 years. Over the years, crafty Ernie did visit The Woolpack and occasionally tried to sabotage Amos.
In 1991 Seth, Jock and Bill swapped The Woolpack for The Malt Shovel but soon swapped back again, much to new Woolpack landlord Alan Turner's happiness.
In around December 1994/January 1995, the loud, rough and uncouth Dingle family of Wishing Well Cottage were probably barred so swapped the Malt for the Woolpack. Since then, there has been many punch ups in The Woolpack. Edna Birch probably switched from the Malt to the Woolpack in 2000. Blimey, with all the switches from the Malt to The Woolpack, no wonder The Malt has not shut down.
As of 2018, The Malt Shovel is probably used for hikers and ramblers, and other tourists while The Woolpack is for locals.
Residents