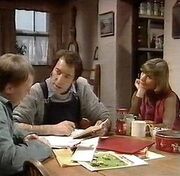 This is a comprehensive family tree of the Sugden family, the original main family of Emmerdale Farm/Emmerdale. Their family history has been explored quite well. When Emmerdale Farm began in October 1972 it featured the funeral of the patriarch Jacob Sugden. Now, only Victoria Barton (Nee Sugden) and Robert Sugden are the family members remaining by blood. Here is a family tree of the Sugden family from the earliest known Sugden, Joshua Sugden through to his great, great, great granddaughter Victoria.
Family Tree
[
]
Joshua Sugden born c1830, married Unknown Woman (c1850)
Orton Sugden born c1853 who married Unknown Woman (c1885)
Joseph Sugden born c1890 who married Margaret Oldroyd (c1915)
Jacob Sugden married Annie Pearson (1945)
Jack Sugden had relationship with Pat Harker in 1964 (They married in 1982)
Jack Sugden married Sarah Connolly in 1994
Robert Sugden had relationship with Rebecca White in 2017
Trivia
[
]
Joshua had another great grandson called Paul Sugden. Joshua was also the great grandfather of Jacob Sugden. Whether Paul was a brother or cousin of Jacob is unclear.
Orton's story is told in a 1979 TV Times "Emmerdale Farm" edition.