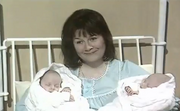 Samuel William and Sally Elizabeth Skilbeck were the twins of Matt and Peggy Skilbeck born 16th April 1973 at Hotten General Hospital. Sadly Peggy Skilbeck died in July 1973 aged 26 and left Matt bringing up two children. Annie Sugden helped bring up the babies.
Sadly on the 13th January 1976 Sam and Sally were killed in a car accident alongside their aunty Beattie Dowton at a level crossing in Beckindale. The car had stalled on the level crossing and was hit by an oncoming train.
They were buried with their mother in Beckindale churchyard. They were played by real life twins Jamie Bell and Justine Bell.
Biography
[
]
1973-1976
[
]
Legacy
[
]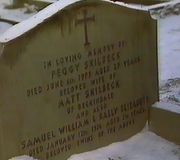 Matt made sure the twins would be remembered. In 1978, Matt married Dolly Acaster. They had a son Sam Skilbeck II in December 1982. Sam was named after his deceased older brother.
In late 1985, Dolly was pregnant again but miscarried, and she had an argument with nasty quarry owner Harry Mowlam recently.
In January 1986, 10 years after the twins deaths, they were referenced to when Matt was up on a murder charge after a huge fight with Mowlam. The real culprit, Derek Warner, was later caught.
In March 1994, Annie Sugden became a grandmother again to Victoria Anne Sugden and Jack Sugden said to Annie "Your first granddaughter", when in fact Sally was her first granddaughter, but had been dead 18 years by then. Jack may have meant Annie's first living granddaughter.
Family
[
]
Father Matt Skilbeck
Mother Peggy Skilbeck
Siblings Sam Skilbeck II (half, same father)
Grandfathers Oliver Skilbeck, Jacob Sugden
Grandmothers Elizabeth Skilbeck, Annie Sugden