Pearl Ladderbanks is a character in Emmerdale, fi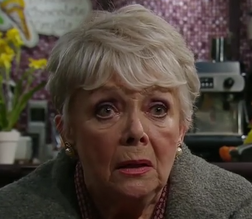 rst appearing in Episode 3500 (30th July 2003). She is a village gossip and is a match for Betty Eagleton. Pearl is played by Meg Johnson.
Biography
[
]
Backstory
[
]
Pearl Hartbourne was born on the 18th March 1938. She married Ted Ladderbanks in 1959 when she was 21. Pearl had a relationship with a man called Robbie. She had a son called Frank Bernard Hartbourne. This may have taken place before she married Ted.
2003-
[
]
Memorable info
[
]
Born: 18th March 1938
Full Name: Pearl Ladderbanks (Nee Hartbourne)
Family
[
]
Spouse Ted Ladderbanks (1959-c1996)
Children Frank Bernard Hartbourne (??)
Grandchildren Owen Hartbourne, Nadine Hartbourne
See also
[
]