Marlon Sebastian Dingle is a long running character in Emme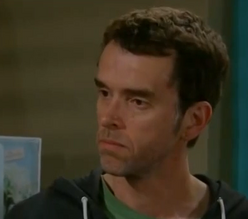 rdale, first appearing in Episode 2125 (17th October 1996). He is the nephew of Zak Dingle. Marlon is the chef at The Woolpack and has been involved in some high profile storylines. He is a long term friend of vet Paddy Kirk. Marlon lives at Tall Trees Cottages. In October 2016, Marlon notched up 20 years in the show. Marlon is played by actor Mark Charnock.
Biography
[
]
Backstory
[
]
Marlon Sebastian Dingle was born on the 20th March 1974 the son of Albert Dingle and his wife Delilah Dingle. Marlon had a brother Eli born 6 years after him. He was the nephew of Zak and Shadrach Dingle and had close relationships with his cousins Butch, Ben, Sam, Cain, Charity etc as children and teenagers.
1996-
[
]
Marlon Dingle first arrived in the village in October 1996. His uncle Zak asked him for some rent. Frank Tate employed Marlon along with his relatives Butch and Zak regarding a quarry development Frank proposed.
Memorable info
[
]
Family
[
]
Father Albert Dingle
Mother Delilah Dingle Snr
Siblings Eli Dingle
Grandfathers Jedediah Dingle
Grandmothers Peg Dingle
Spouses Tricia Stokes (2003-2004) Donna Windsor (2006-2009) Jessie Grant (2019-)
Children April Windsor (2009), Leo Goskirk (2011)
Uncles/Aunts Shadrach Dingle, Zak Dingle, Caleb Dingle, Ezra Dingle, Obadiah Dingle
See also
[
]
Gallery
[
]