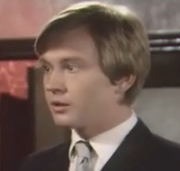 Mark Proctor was a minor character in Emmerdale Farm in 1973. He was the nephew of squire George Verney. He was played by Geoffrey Burridge.
Backstory
[
]
Mark is one of the two nephews of George Verney, who owned Miffield Hall until his death in 1978. He was the son of Marjorie and Ronald Proctor - Marjorie was George's sister. He also has a cousin by his mother's other brother named Gerald.
Mark is younger than Gerald. This can be guessed from the fact that it was Gerald who inherited Miffield Hall upon George's death and not Mark. It would've gone to the eldest nephew of George.
1973
[
]
Sick of his controlling father, Mark arrived in Beckindale in August 1973 to stay with his uncle George Verney who was more than willing to have him.
Family
[
]
Father Ronald Proctor
Mother Marjorie Proctor (Nee Verney)
Uncles/Aunts George Verney, Mr Verney
Cousins Gerald Verney