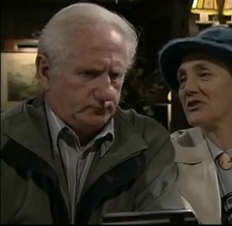 Len Reynolds was a character in Emmerdale from 2001 to 2007. He was the father of Sean Reynolds and grandfather of Marc and Ollie. Len was played by Peter Martin.
Biography
[
]
Backstory
[
]
Len Reynolds was born on the 23 February 1937. He met and married Eileen in the early 1960s and they had one child, Sean Reynolds in 1964. Sean left home at a young age.
Eileen died suddenly in 2001 so Len decided to visit his son in Yorkshire.
2001-2007
[
]
Memorable info
[
]
Birthday: 23rd February 1937
Died: 17th May 2007 (Aged 70)
Full Name: Leonard Reynolds
Family
[
]
Spouse Eileen Reynolds (c1962-??)
Children Sean Reynolds (1964)
Grandchildren Marc Reynolds, Ollie Reynolds