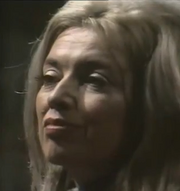 Laura Verney was a minor character in Emmerdale Farm in 1973. She was the much younger wife of squire George Verney and she embarked on an affair with Jack Sugden. Laura was played by Patricia Haines.
Backstory
[
]
Laura (Unknown Maiden Surname) was born in January 1938. George and Laura met sometime before 1966. They married in 1966 when she was 28. George was in love with Laura but, although she was fond of him, Laura didn't love George and was soon bored in their marriage.
Storyline
[
]
In February 1973, Laura and George's marriage began cracking up and it was not helped by the fact that Laura embarked on an affair with Jack Sugden. George still wanted her after the truth of the affair came out, but Laura was adamant that she wanted a divorce and she didn't love either George or Jack.
Laura and George divorced and she left Beckindale for good.
Memorable info
[
]
Birthday: January 1938
Full Name: Laura Verney
Family
[
]
Spouse George Verney (1966-1973)