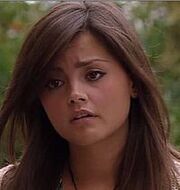 Jasmine Thomas
was a character in Emmerdale from
Episode 4087 (30th June 2005)
to
Episode 5255 (26th March 2009)
. She was the niece of
Ashley Thomas
. She came out as a gay and flirted with 
Victoria Sugden
and started a relationship with
Debbie Dingle
. Jasmine was played by
Jenna-Louise Coleman
.
Backstory
Edit
Jasmine Thomas was born on the 16th August 1989 to Luke Thomas and Karen Thomas. Jasmine's uncle Reverand Ashley Thomas was a vicar.
2005-2009
Edit
Jasmine arrived in the village in June 2005. She is sent there during the school holidays and is initially lonely but becomes friends with Daz Eden, Steph Stokes and Debbie Dingle. Jasmine is expelled from school and later kisses Debbie to provoke a reaction from Debbie's father Cain Dingle. Jasmine and Debbie realise they share more than friendship but Cain tries to seduce her.
Jasmine later Jasmine is devastated to learn that Cain used her to get at Debbie but they soon reconcile when Jasmine realises that she is pregnant. Debbie tells Cain and also that Jasmine plans to have an abortion, which she does, paid for by Sadie King. Cain is devastated as he wanted her to have the baby and Debbie gleefully tells him that Sadie was involved too.
Jasmine becomes a journalist. She later dates David Metcalfe. David has an affair with Nicola De Souza and Jasmine exposes Nicola's schemes in the local paper and in front of Nicola's much older husband Donald De Souza. Jasmine then briefly dates Miles De Souza, Donald's son.
Jasmine later meets policeman Shane Doyle but finds he is a dodgy policeman. Debbie warns Jasmine to keep away from Shane as he is bad news but Jasmine does not listen. One time Shane tries to rape Jasmine. Debbie saves Jasmine but Shane goes for Debbie and Jasmine hits Shane, killing him. They bury his body in a lake on Home Farm land.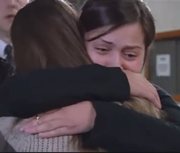 Jasmine is left traumatised after killing Shane and has nightmares. Shane's body is found when Victoria Sugden falls into the lake. After some deliberations and absconding for a while, Jasmine later admits to killing Shane.
In March 2009, Jasmine is charged with manslaughter and given 4 years in prison. She and Debbie said their love would last forever. Jasmine was lead away to her cell.
As of 2016, Jasmine has probably been released from prison but she has not returned to Emmerdale and her current whereabouts are unknown.
Memorable info
Edit
Birthday: 16th August 1989
Full Name: Jasmine Thomas
Father Luke Thomas
Mother Karen Thomas
Siblings None
Uncles Ashley Thomas
Grandfathers Sandy Thomas
Grandmothers Dorothy Thomas
Jasmine Thomas - List of appearances