Hotten is the nearest town from Emmerdale and has featured in t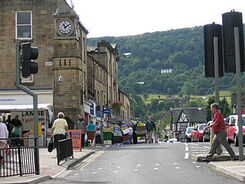 he show ever since 1972. It has around 15,000 inhabitants, or more by now. Since 1972 the town has grown quite rapidly in size and the local hospital, Hotten General Hospital, even has a high rise Main Ward Block and the town even has Hotten Airport. Many residents of Emmerdale Village use the town for shopping. Hotten has grown from a medium sized market town to a very major Yorkshire Dales town since 1972, and even has a few high rise towerblocks.
History and Facts
[
]
Hotten has included several amenities (in the past and present) such as Hotten General Hospital; Hotten Cattle Market; Hotten Sexual Health Clinic; a department store; a DIY store called Hotten Hardware; a park; and at least one gay bar present at a time, The Rusty Shilling and then Bar West.
It is presumably the home to the local newspaper, Hotten Courier.
According to sign posts, Hotten is 7.5 miles from Emmerdale. Rachel Hughes once stated that it is 6 miles (episode 2106) but this is possibly just an off-hand estimate.
1972-
[
]
In 1972, many members of Beckindale, a nearby village used Hotten for shopping and hanging out.
Known residents over the years
[
]
Gallery
[
]