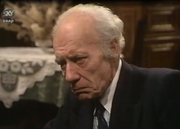 Herbert Ramskill was an English actor who played Wally Lumm in 1973 and 1974.
Pre Emmerdale career
[
]
Herbert Ramskill was born on the 29th May 1913 in Blackburn, Lancashire.
He was in several shows such as Coronation Street in 1969 and Z Cars in the early 1970s. He was once considered for a role in Dr Who.
Emmerdale (1973-1974)
[
]
Herbert played Wally Lumm in 1974 for 10 epsiodes. For an old man, Wally was quite controversial and had a very rigid view about Christianity and was against divorced women in the Mothers Union.
After Emmerdale
[
]
Herbert appeared in Crown Court in 1976. This was his last TV role.
Herbert died on the 4th June 1977 aged 64.
Refs
[
]