Jurassic World: Dominion Dominates Fandom Wikis - The Loop
Play Sound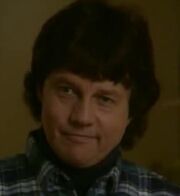 Frazer Hines is an English actor who played Joe Sugden in Emmerdale from 1972 to 1994.
Biography
[
]
Born on 22nd September 1944 in Horsforth, West Riding of Yorkshire. His father was born in Ipswich, Suffolk and his mother was Scottish, from Port Glasgow.
Pre Emmerdale
[
]
Attending the Corona Theatre School, Frazer started his career as a child actor from the age of ten. He appeared in numerous films including uncredited roles in Stock Car (1955), One Good Turn (1955), John and Julie (1955), The Woman for Joe (1955), The Weapon (1956), Miracle in Soho (1957). He also appeared in A King in New York (1957), Charlie Chaplin's final starring film.
Frazer's first television role was as a boy called Napoleon in the BBC adaptation of Huntingtower (1957).This followed with more television roles including Jan in several episodes of the serial, The Silver Sword (1957 to 1958); Mick Fairburn in all five episodes of Run to Earth (1958). Frazer played Roger Wain in Coronation Street in 1965 for 3 episodes.
His best-known role, however, was as Scottish highlander Jamie McCrimmon in Doctor Who. Originally intended as a one-off guest appearance opposite then-new Doctor actor Patrick Troughton in 1966, during filming it was decided to make Jamie an ongoing companion. Hines would go on to play the role for three seasons (1966 to 1969), becoming one of the longest-serving companion actors in the show's history. He would later reprise the role in 1983 (for Doctor Who's 20th-anniversary special) and 1985 (for the story The Two Doctors, which reunited him with Troughton). Since the early 2000s, Hines has been reprising the character of Jamie McCrimmon (as well as standing in for the now-deceased Troughton as the Second Doctor) in many BBC-licensed audio dramas produced by Big Finish Productions.
Author Diana Gabaldon has confirmed that Hines' time-travelling highlander character was a direct inspiration in her creation of the romance-fantasy book series Outlander (which was later adapted as a popular TV series). The lead character, Jamie Fraser, as named in honour of Hines' character, and Hines himself was later invited to guest star in the TV series.
Emmerdale (1972-1994)
[
]
Frazer joined the cast of Emmerdale Farm in 1972, in what was meant to be just a 13 episode series. However, Emmerdale became popular and the show continued. Frazer would remain in the role until 1983 when he left for 2 years before returning in 1986. In 1994, Frazer had just married again, and owned a stud farm. He found the hectic schedule of filming Emmerdale too much by then so decided to leave the show. Frazer stated that he was going to work in the dark and coming home in the dark, so he left Emmerdale.
After Emmerdale
[
]
In June 1995, the character of Joe Sugden was killed off offscreen, thus ending any chances of Frazer returning to the show at a later date. Also, viewers of the show feel that Joe Sugden was killed off by the producers out of spite because Frazer had decided to leave the show the previous year. They also hope that Joe faked his death and is still alive out there. Frazer himself has not ruled out such a comeback, Den Watts style. Frazer has run a successful TV company since leaving Emmerdale. As noted above, he continues to act in audio dramas based upon Doctor Who, reprising both his original character of Jamie McCrimmon and on occasion also playing the Second Doctor, and in 2014 he had a role in the TV series version of Outlander, based on the book series inspired by his character. In a 2017 interview with The Sun, Hines revealed that he had tried to get an Outlander TV series produced in the 1980s, with himself in the lead role of Jamie Fraser, while he was still on Emmerdale.
Refs
[
]
https://en.wikipedia.org/wiki/Frazer_Hines