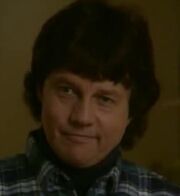 Frazer Hines
is an English actor who played
Joe Sugden
in
Emmerdale
from 1972 to 1994.
Biography
Edit
Born on 22nd September 1944 in Horsforth, West Riding of Yorkshire. His father was born in Ipswich, Suffolk and his mother was Scottish, from Port Glasgow.
Pre Emmerdale
Edit
Attending the Corona Theatre School, Frazer started his career as a child actor from the age of ten. He appeared in numerous films including uncredited roles in Stock Car (1955), One Good Turn (1955), John and Julie (1955), The Woman for Joe (1955), The Weapon (1956), Miracle in Soho (1957).
Frazer's first television role was as a boy called Napoleon in the BBC adaptation of Huntingtower (1957).
This followed with more television roles including Jan in several episodes of the serial, The Silver Sword (1957 to 1958); Mick Fairburn in all five episodes of Run to Earth (1958)
Frazer played Roger Wain in Coronation Street in 1965 for 3 episodes.
Emmerdale (1972-1994)
Edit
After Emmerdale
Edit
Frazer has run a successful TV company since leaving Emmerdale. Also, viewers of the show feel that Joe Sugden was killed off by the producers out of spite because Frazer had decided to leave the show the previous year. They also hope that Joe faked his death and is still alive out there. Frazer himself has not ruled out such a comeback, Den Watts style.
https://en.wikipedia.org/wiki/Frazer_Hines