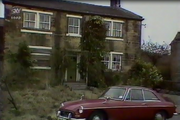 Mel Openshaw
visits the former corn chandlers in Beckindale and see it is derelict. His sister 
Beth Openshaw
comes from the shop and wonders what Mel's interest in the derelict building is. Mel surveys the building.
Martin Gimbel
and
Rosemary Kendall
's friendship is still in muddy waters. 
Matt Skilbeck
finds it hard to convince others that life goes on. Henry agrees to Mel that he will have a look at the old corn chandlers. Mel says that a family with the surname Mason used to live in the village in the 1920s. They had lived in the old corn chandlers.
Main cast
Guest cast
Writer - Kevin Laffan
Director - Nick Gray
Producer - Robert D Cardona
Executive Producer - David Cunliffe
First appearance of scenes filmed in Esholt.
First appearance of what was to be the current Woolpack premises, which was still then derelict and a former corn chandlers.