Synopsis
[
]
As the village - and Sam Pearson in parti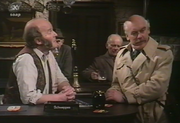 cular - prepare for the Harvest Supper, Kathy Gimbel is making plans of a much different kind. Sam's old friend Hunter Bell is unsure of exactly how old he is and wants to join the Over 70s club. Sam tells him that Rev Ruskin could not find his birth record in the church registers and tells Hunter that if he had been born in Beckindale it would be in the church records. Hunter asks Sam if Charlie Nelson would want to join the Over 70s. Sam says no but Hunter says he may be persuaded. Kathy Gimbel wants to rent the flat above the shop. Henry Wilks says it is being used as a storeroom. He will get back to her. Joe Sugden returns the bracelet to Kathy. She says she is staying in Beckindale as it is her home.
Cast
[
]
Main cast
Guest cast
Writer - Gloria Tors
Director - David Reynolds
Producer - Robert D Cardona
Notes
[
]
First appearance of Freda Gimbel.