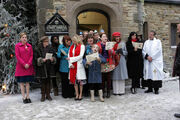 Emmerdale Church is the focal point of the village where residents gather for baptisms, weddings and funerals and church services.
The current church building has only been used as the church since 2002. Before than the old church was on the outskirts of the village and much bigger.
The original church.
Edit
The church of St Mary's, Beckindale was built in the 1500s. In June 1882, a fire ripped through the church and was allaged to have been started by a local choirboy.
Several generations of Sugden family members, Pearson family members and Verney family members were buried in the churchyard. On the 16th October 1972 Jacob Sugden was buried. This resulted in the villages overdue emergence into the 20th century. The next funerals were of Sharon Crossthwaite and Trash the tramp followed by Peggy Skilbeck nee Sugden in July 1973.
But 20 years later in January 1994 was a time when the church had to deal with the most amount of bodies to be buried when a multiple funeral took place for the villagers who died in the plane crash which devastated the village on the 30th December 1993. Archie Brooks, Elizabeth Pollard, Mark Hughes and Leonard Kempinski and the Hutchinson family all perished. All the passengers of the plane were sent back to their home country in Eastern Europe.
Vicars in the 1960s, 1970s and 1980s included Reverend Edward Ruskin, Reverend Donald Hinton and Reverend Jackson. In 1996, Ashley Thomas was posted as the new vicar.
500 years of history of the church ended in 2002 when village resident Zoe Tate burned it down and was sectioned under the Mental Health Act.
The current church building
Edit
Neighbouring Properties
Edit