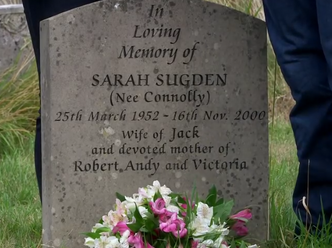 Emmerdale Village Cemetery
is the village cemetery which is situated behind 
Main Street
in Emmerdale. It is the final resting place of many villagers who died during the shows run and before such as 
Jacob Sugden
who died just days before the first episode, and any grisly murder victims such as
Harry Mowlam
and
Carl King
are buried in the cemetery. All the deceased members of the Sugdens are buried there as are deceased members of the Kings, Hathersage's, Dingles, Gimbels etc.
Beckindale cemetery was once in the churchyard of the old church. The cemetery dates back to Viking times. Many of the members of the original families of the village such as the Sugdens, Dingles, Pearsons and Verneys were buried here from the 1100s to present day.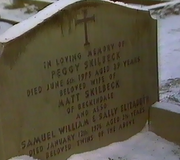 Since 1972 there has been many burials of characters over the years. The first onscreen burial was that of Jacob Sugden who was buried in Episode 1 (16th October 1972). His death marked the end of an era for the village of Beckindale. The village was bought into the 20th century. Since then there has been many villagers buried in the cemetery over the years such as Peggy Skilbeck, Pat Sugden, Elizabeth Pollard, Tom King, Max King, Carl King and Alan Turner.
Notable burials
Edit
Here is a list of notable bur
ials in the cemetery, ordered by year of death.
Those marked with an asterix have a photo of their grave in the gallery at the bottom of the page.
Plane Crash Victims
Edit
On the 30th December 1993, an airliner heading onwards to Canada from Eastern Europe crashed on the village. Villagers killed were buried in the cemetery as was a few victims from the plane itself. Most were returned to their Eastern European country.
Funerals conducted since 1972
Edit
This is a list of funerals that have been seen on screen or that have happened offscreen but were mentioned on screen. Funerals of villagers where the funeral was not seen or mentioned is not included in this list.