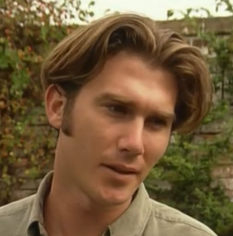 David Edward Glover was a character in Emmerdale from Episode 1892 (4th August 1994) to Episode 2145 (26th December 1996), with a flashback appearance in Episode 2149 (7th January 1997). He was the son of Ned Glover and Jan Glover and brother of Linda Fowler and Roy Glover. Dave was played by actor Ian Kelsey.
Biography
[
]
Backstory
[
]
Dave Glover was born on the 31 May 1973 to Ned Glover and Jan Glover. Dave was the eldest of their 3 children. A sister Linda Glover was born in 1978 and Roy Glover in 1980. 
1994-1996
[
]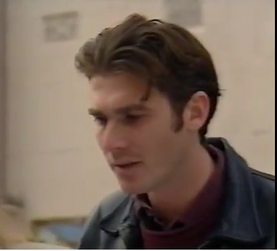 Dave Glover arrived in August 1994 with the rest of his family. His father Ned was a long term friend of Jack Sugden. Dave was best friends with Biff Fowler and Luke McAllister. In October 1994, Dave and Zak Dingle got off on the wrong foot over Zak's bare knuckle fight with Dave's father Ned.
In June 1995, Dave met Annie Sugden who remembered him as a baby. Dave romanced Kathy Tate. Dave became friendly with Kim Tate of Home Farm. For ages, Kim and Dave kept the affair secret from her husband Frank Tate. The truth later outed. In September 1996, Kim gave birth to a baby boy James Tate. Dave remains in love with Kim and believes he is James' father, but when Frank does not let him near Kim, Dave turns to his ex-lover, Kathy. They begin a relationship and Kathy proposes to Dave, who accepts. They marry at a registry office in secret. Kim decides to leave the village with James and she persuades Dave to go with her. Dave decides to leave Linda's wedding reception to meet Kim at Home Farm. Frank returns and he confronts Dave and Kim.
In December 1996, Dave saved baby James Tate from a fire at Home Farm. Dave becomes trapped by the fire, but he is eventually rescued. He is rushed to hospital, where his family keep a bedside vigil but Dave dies from his injuries.
Dave's funeral takes place in January 1997 and is conducted by Ashley Thomas, the new vicar.
Legacy
[
]
In 2009 Sam Dingle mentioned Dave Glover.
In 2012 when Zak Dingle was having a mental breakdown he mentioned Dave.
Memorable info
[
]
Birthday: 31st May 1973
Died: 25th December 1996 (Aged 23)
Cuase Of Death: Severe burns and smoke inhalation
Full Name: David Edward Glover
Family
[
]
Father Ned Glover
Mother Jan Glover
Siblings Linda Fowler, Roy Glover
See also
[
]
Dave Glover - List of appearances