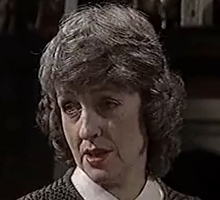 Caroline Bates (Nee Wood)
was a character in Emmerdale Farm from 
Episode 855 (21st February 1984)
to 1989 and made a few guest appearances afterwards, staying with
Nick
and
Elsa
, as well as
Kathy
, when her husband
David
died. She last appeared in 
Episode 2559 (5th August 1999)
at her daughter
Kathy
's wedding to
Biff Fowler
, which was called off at the last minute. She started off as the secretary of
Alan Turner
, the boss at
Home Farm
, helping bring out his softer side. Caroline was played by
Diana Davies
.
Biography
Edit
Backstory
Edit
Caroline Bates was born Caroline Wood in about 1940 to Alice Wood and her husband, and was one of at least 3 children. She grew up in Sacrborough and married Malcolm Bates in the 1960s and they had two children Kathy and Nick.
1984-1989
Edit
In February 1984 Caroline Bates was appointed secretary to Alan Turner at Home Farm. She had been recommended by Alan's estranged wife Jill, herself a businesswoman. Caroline moved into Victoria Cottage, which was 17 Main Street at the time, and was 2 doors down from the shop. She bought out the humorous side to the bullying Turner and also bought out his softer side.
1990-1999
Edit
Mrs Bates was last seen in August 1999 at her daughter Kathy's wedding to Biff Fowler. Biff called off the wedding. Caroline comforted Kathy. She has not been seen or heard from since.
Memorable info
Edit
Birthday: 1940
Full Name:
Mother Alice Wood
Spouse Malcolm Bates
Children Kathy Brookman (1967), Nick Bates (1969)
Grandchildren Alice Bates