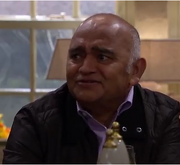 Bhasker Patel is a Ugandan-born British actor who has played Rishi Sharma since 2011.
Biography
[
]
Born on 7th February 1956 in Kampala, Uganda. Like a lot of Indian families , Bhasker's family had moved within the British Empire, including Africa, to establish businesses.
In 1962, due to the end of British rule, Bhasker along with his mother and four sisters moved back to India to his ancestral home of Gujarat in Western India.
Bhakser moved to London with his family when he was 17.
In his acting career, he was sometimes credited with just "Bhasker".
Pre Emmerdale
[
]
Television appearance include: Play for Today (1981); Grange Hill (1982); The Jewel in the Crown (1984); Crown Court (1984); The Lenny Henry Show (1984); Moving (1984); as Kirshna Verma in several episodes of the serial, The Real Eddy English (1989); The Paradise Club (1989); the Birmingham set soap, Family Pride (1991); Chimera (1991); Boon (1991); Rides (1991); as Nawaz Hamoud in several episodes of Brookside (1987; 1992); Between the Lines (1992); as Marway in several episodes of Lynda La Plante's Civvies (1992); Screen Two: The Long Roads (1993); Over the Rainbow (1993); Birds of a Feather (1993); Game On (1996); Only Fools and Horses (1996); Coast Guard (1997); as Doctor Raju Patel in the serial, Pure Wickedness (1999); The Scarley Pimpernel (2000); My Family (2001); Coronation Street (2004); Skins (V3:E3 2009) Shopkeeper
Film appearances include: Indiana Jones and the Temple of Doom (1984); My Beautiful Laundrette (1985); Partition (1987)
Emmerdale
[
]
Sources
[
]
AAH - All About Horsham Magazine. 'Bhasker Patel: From Uganda to Emmerdale'. http://www.aahorsham.co.uk/content/bhaskerpatel Accessed: 09 June 2015.