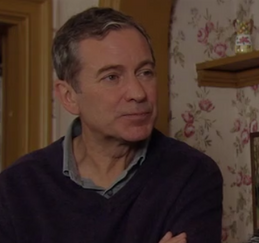 Rev Ashley Thomas was a long running character in Emmerdale who first appeared in Episode 2139 (5th December 1996) when he married Biff Fowler and Linda Glover and last appeared in Episode 7794 (7th April 2017) where he died after a long battle with vascular dementia. He was the vicar of Emmerdale for 19 years. He had vascular dementia and was diagnosed in 2015, succumbing to the illness in 2017. Ashley was played by John Middleton.
Biography
[
]
Backstory
[
]
Ashley Thomas was born on the 14 November 1961 to Sandy Thomas and Dorothy Thomas. He had a brother Luke Thomas. In the early 1980s Dorothy fell ill and Sandy helped her die. Ashley was estranged from Sandy due to this. Ashley trained as a priest and was later ordained.
1996-
[
]
Ashley arrived in the village in 19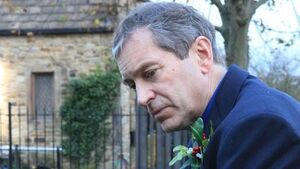 96 to marry Linda Glover and Biff Fowler. He was appointed the new parish vicar. Ashley settled into life in the village. In March 1997, Ashley conducted the funeral of Kim Tate. Frank Tate, while on day release from remand got angry with a journalist. Ashley told Frank this is not the time and Frank asked "When is it ever the right time Reverend?".
In late April 2000, Ashley and Bernice Blackstock started dating.
Memorable info
[
]
Ashley liked Teenage Kicks by the music band The Undertones.
Family
[
]
Father Sandy Thomas
Mother Dorothy Thomas
Siblings Luke Thomas
Spouse Bernice Blackstock (2000-2004), Laurel Thomas (2005-2013; 2016-)
Children Gabby Thomas, Arthur Thomas, Dotty Thomas
Nieces Jasmine Thomas
See also
[
]
Gallery
[
]