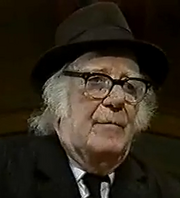 Arthur Prendegast
was a minor character in Emmerdale in October 1994. He was the father of
Betty Eagleton
. Arthur disapproved of his daughter's wedding to her childhood sweetheart. Arthur was played by
George Malpas
, who played
Barney
the postman from 1972 to 1978.
Biography
Edit
Backstory
Edit
Arthru Prendegast was born in about 1910. He married Nora Prendegast (Unknown maiden name) in about 1930 and they had 2 children, Margaret Prendegast in about 1932 and Betty Prendegast in 1934.
Arthur Prendegast turned up in Emmerdale in October 1994 to inspect his 60 year old daughter's old boyfriend Seth Armstrong. Arthur knew that Seth would be a good partner to Betty and gave his approval of their relationship.
As of 2018, it is likely that Arthur has passed away. Betty is 84 now so Arthur would be over 102 if still alive.
Memorable info
Edit
Born: About 1910-1912
Full Name: Arthur Pendergast
Actor George Malpas was born in 1926 but his character Arthur was many years older as his daughter Betty was born in January 1934. Arthur was born probably no later than 1916.
Spouse Nora Prendegast (c1930-??)
Children Betty Eagleton (1934), Margaret Prendegast (c1932)
Appearances
Edit
1994