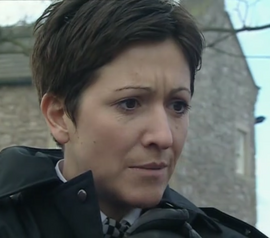 Angie Reynolds was a character in Emmerdale from 1999 to 2002. She was the wife of Sean Reynolds and was a policewoman. Angie was played by actress Freya Copeland.
Biography
[
]
Backstory
[
]
Angela (Unknown Maiden Surname) was born on the 17th June 1965. She met Sean Reynolds in about 1982 and they soon married and had a son Marc Reynolds in December 1983. A daughter, Olivia Reynolds was born in 1985. Olivia was known as Ollie as she got older. Angie was a policewoman.
1999-2002
[
]
Angie and Sean arrived in Emmerdale Village in March 1999.