Andrew "Andy" Sugden is a long running c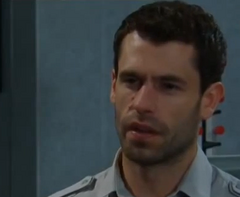 haracter in Emmerdale. He has been in the show since Episode 2095 (4th July 1996) and has been in relationships with Katie Macey and Debbie Dingle, of which he has fathered a child by both and has got Debbie pregnant again in a ploy to have another child so he/she is a good match to help elder sister Sarah overcome her illness.
Andy was adopted by Jack Sugden and his wife Sarah in 1997. He is played by Kelvin Fletcher.
Biography
[
]
Backstory
[
]
Andrew Sugden was born on the 28 January 1986 to Billy Hopwood and Trisha Hopwood.
1996-2001
[
]
2002-
[
]
Memorable info
[
]
As boy, Andy had an inhaler (episode 2110).
Family
[
]
Father Billy Hopwood
Mother Trisha Hopwood
Siblings Daz Eden (half, same father)
Adoptive Father Jack Sugden
Adoptive Mother Sarah Sugden
Adoptive siblings Jackie Merrick, Robert Sugden, Victoria Sugden
Children Sarah Sugden Jnr, Jack Sugden II
Uncle Joe Sugden
Aunt Peggy Skilbeck
Grandmother Annie Sugden
Grandfather Jacob Sugden
See also
[
]