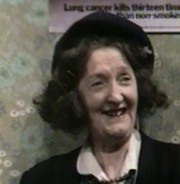 Amy Postlethwaite was a minor character in Emmerdale Farm in 1973. She appeared for a few episodes in July and August 1973. She was the shopkeeper of Beckindale village store, Main Street, Beckindale. She left the shop to Alison Gibbons in August 1973 and left the village to join her sister in London. Amy was deaf and had an old-fashioned hearing aid that Dr Claire Scott wanted her to have something more up to date. It is not known how long Amy lived after she left. Amy was played by Dorothy Frere.
Biography
[
]
Backstory
[
]
Amy was born in about 1900. She had a sister.
1973
[
]
Amy was now in her 70s and decided to retire. She was in ill health and could not run the show as well as she used to. She retired that year and the shop was handed over to Henry Wilks and Alison Gibbons was taken on as a shopkeeper.
In August 1973, she was taken to Leeds Railway Station to board the train to London, with her final destinaton of Barnstaple, Devon to live with her sister and never returned to Beckindale again.
Memorable info
[
]
Family
[
]
Siblings: 1 sister
Appearances
[
]
1973
Gallery
[
]