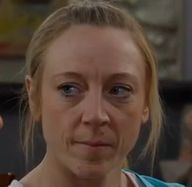 Ali Spencer (neé Breckle)
was a character in Emmerdale, having first appeared in
Episode 6054 (17th October 2011)
and last appeared in
Episode 7273 (26th August 2015)
. She was the sister of 
Rachel Breckle
and the mother of 
Sean
and
Amelia Spencer
. She was the lesbian lover and wife of
Ruby Haswell
until Ruby died in the helicoper crash in 2015. Ali and Rachel moved to Liverpool in August 2015. The family lived at
Brook Cottage
. In April 2018, almost 3 years after she left the village, Ali was killed in a road accident in
Liverpool
. She was played by
Kelli Hollis
.
Biography
Edit
Backstory
Edit
Ali Breckle was born in the 1970s. She had a younger sister Rachel Breckle born in 1984. In 1994, Ali married Dan Spencer. They had a son Sean Spencer in 1997 and Amelia Spencer in 2003. Ali and Dan became estranged. Ali was bisexual and had a relationship with Ruby Haswell.
2011-2015
Edit
Ali and Ruby arrived in Emmerdale in October 2011. They moved into Brook Cottage. Ali could be a bit loud and troublesome. In November 2011, Dan turned up to see his children. Ali and her partner, Ruby, are not pleased by his presence, but Amelia and Sean enjoy having their father visit. Dan decides to stay around for a while and he believes he can win Ali back. After a couple of weeks, Dan announced he is leaving to return to work. Sean asks to go with him, but Dan tells him he has no flat yet. Dan returns to the village a few months later, still refusing to give up on his marriage, even though Ali wants a divorce. Dan moves in and gets a packing job at the Sharma & Sharma sweet factory. Sean tells him to leave Ali and Ruby alone and that he likes living with them. Dan takes Amelia and Sean to his house after Sean claims that Ruby kissed him. Dan allows the children to return home when Sean confesses to lying about the kiss. When Ali and Ruby fall out, Dan helps them repair their relationship.
In August 2015, Ruby died in a helicopter crash. Ali and Rachel decided to move to Liverpool.
2018 Death
Edit
In April 2018, Ali died in a car accident in Liverpool. Daz was informed and he told Amelia before her father Dan could tell her.
Memorable info
Edit
Born: Unknown (c1970-1975)
Died: 26th April 2018)
Siblings Rachel Breckle
Grandfathers Fred Breckle
Spouse Dan Spencer (1994-2012)
Children Sean Spencer (1997), Amelia Spencer (2006)
Nephews Archie Breckle