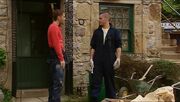 2010 was Emmerdale's thirty ninth year in production and was another year of events down in the village. This year saw the last appearances of Mark and Natasha Wylde and their horrible son Nathan.
14 January, Bigamist Mark Wylde was shot dead by his wife Natasha after the truth about his bigamy and lies and deciet was uncovered.
8 March, Charlie Haynes first appeared.
22 March, Jackson Walsh first appeared.
15 April, Declan Macey first appeared.
22 April, Holly Barton's friend Roz Fielding first appeared.
May, Roz Fielding gave Holly Bartson some drugs, starting Holly's addiction.
July, the body of Mark Wylde was discovered. Betty Eagleton thought it was of Seth until it was identified to have been Mark Wylde's.
11 August, Alicia Gallagher first appeared, arriving in the village telling sister Leyla not to attend their mothers funeral.
12 August, Hazel Rhodes first appeared.
October, on a night out Aaron Livesey and Jackson Walsh had an argument. Jackson drove off and crashed his van on a railway line. A train then hit the van leaving Jackson with two broken bones in his neck leaving him tetraplegic.
8 October, first appearance of Amy Wyatt.
1 November, first appearance of Derek Benrose.
December, 17 years after his wife Elizabeth's death, Eric Pollard started recieving greeting cards and letters from a woman called "Elizabeth". Eric suspected that it was AMy Wayatt, who was staying with him and Val at the B&B. It later turned out to be from her son Michael Feldmann.
30 December, after 17 years away, Michael Feldmann returned to Emmerdale, meeting Eric Pollard at Elizabeth's grave.