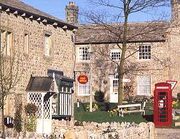 1998 was Emmerdale's twenty seventh year in production. We first saw village scenes in the new purpose built village on 13th Febraury. This year saw the death of Vic Windsor and the remarriage of Kim Tate to Steve Marchant.
January, Barry Clegg, Lisa Dingle's first husband returned to the village with a new invention, a pedal powered microwave. As Pollard hosted a TV cookery show in the tea rooms, the Dingles offered to do the electrics, but with disasterous results. The tea rooms was short circuited.
28 January, Zak Dingle married Lisa Clegg.
February 17, While in hiding at Pear Tree Kim Tate stole some milk off a milk float outside the Woolpack.
May 7, Steve Marchant married Kim Tate almost 1 year after the death of her previous husband Frank.
June, Ernie Shuttleworth of The Malt Shovel organises a cricket match between the Woolpack and his pub. The Woolpack wins which upsets one of Ernie's customers, Nobbie who accused the Woolpack team of stealing something he has.
August, Eric Pollard was suicidal and threatened to burn down the wine bar with himself in it. He is talked out of it by Marlon Dingle.
16 September, Alan Turner's granddaughter Tricia Stokes turned up in the village.
November, a fire ripped through the Woolpack after fireworks being stored under the bar went off. Turner returned and was horrified.
25 November, Bernice Blackstock first appeared. She was the new Woolpack barmaid.
25 December, Vic Winsdor was killed in a raid on the post office by Billy Hopwood.
25 December, Bellie Dingle was born to Zak and Lisa Dingle in the pig pen as Lisa had gone into labour while tending the pigs unaware she was pregnant after suffering bad stomach pains for the whole day.
31 December, Vic Windsor was buried.
Carl King married Colleen.