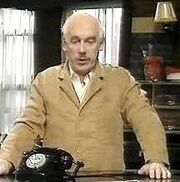 1991 was Emmerdale's twentieth year in production and we lost two more original characters, Amos and Mr Wilks. The year was a year of big change at the Woolpack as Amos decided to hang up his pint puller at the Woolpack and sold it to Alan Turner so he could retire to Spain, bringing down the curtain on his famous double act with Henry Wilks, who died later that year due to the death of the actor Arthur Pentelow who played him. This year saw the final appearance of Dolly.
January, After 42 years as landlord, Amos Brearly sold the Woolpack to Alan Turner and retired to Spain. For the first time ever he called Mr Wilks by his first name Henry.
Henry Wilks stayed on at the pub as Turner's partner but moved into Emmerdale Farm. He became irritated by Alan's ways of modernising the pub he had helped run for almost 20 years.
September 5, final ever appearance of Henry Wilks.
October 3, Henry Wilks died of a heart attack aged 69 at Emmerdale Farm.
December, after 18 years in prison, Jim Latimer returned to get revenge on Jack Sugden for being a prosecution witness as his 1973 trial for murdering Sharon Crossthwaite. Latimer kidnapped Jack's wife Sarah Sugden and was later shot dead by police.
December, Dolly Skilbeck left Beckindale to join her ex husband Matt in Norfolk.