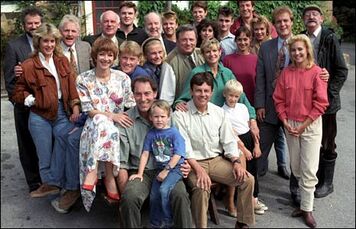 1990 was Emmerdale's nineteenth year in production. We first saw the Feldmann and Whiteley families this year and this was quite a strenuous year for Woolpack landlord Amos Brearly who later considered his position as Woolpack landlord.
A tanker crashed into the house next to the Woolpack trapping Amos Brearly in the cellar.
13 February, first appearance of Michael Feldmann.
July, Amos Brearly suffered a stroke at Annie Sugden's 70th birthday party.
December, Amos decided to call time as landlord of the Woolpack after his stroke and his cellar ordeal. Alan Turner showed an interest in buying the pub.