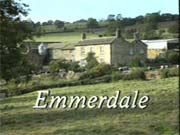 1989 was Emmerdale Farm/Emmerdale's eighteenth year in production and many changes happened onscreen this year plus offscreen when the word "Farm" was dropped from the title of the show in November 1989 to concentrate more on Beckindale and Home Farm. Onscreen we lost another original character, Matt Skilbeck as he left to run a farm in Norfolk after his marriage to Dolly had broken up. Rev Hinton called time on his tenure as vicar and retired to Coventry. And Jackie Merrick was shot this year then his sister Sandie left to join her father on the oil rigs. Also this year we saw the first appearance of the Tate family.
NY Estates pulled out of Home Farm. The manor went on the market.
Annie Sugden became hooked on tranquilisers and locked herself away at Emmerdale.
January, Phil Pearce was arrested for his involvement in Eric Pollard's antique frauds.
March, Joe Sugden meets his fiancee Kate's ex-husband David Hughes.
April, Joe Sugden and Kate Hughes married.
April, Kathy Merrick miscarried her and her husband Jackie's baby.
May, Sandie Merrick left Beckindale to join her father Tom in Scotland.
July, local tyrant and Home Farm manager Dennis Rigg was crushed by a bull at an Emmerdale Farm shed.
August, Jackie Merrick accidentally shot himself when trying to hunt a fox.
August, Rev Hinton retired to Coventry.
September, Annie Sugden took up dancing.
November, Frank Tate bought Home Farm and him and his wife Kim, and his children Chris and Zoe moved in.
December, Matt Skilbeck left Beckindale to live in Norfolk.
Background information.
Edit
The final episode of "Emmerdale Farm" episode 1402 was transmitted on the 9th November 1989. The following episode, episode 1403 was titled just "Emmerdale" and was broadcast on the 14th November 1989. From then on Emmerdale Farm gradually became less involved in the show's storylines as Home Farm and the village took focus over storylines. New opening and closing credits were aired to coincide with the word "Farm" being dropped from the title.