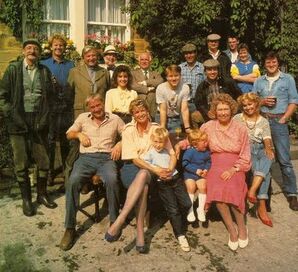 1988 was Emmerdale's seventeenth year in production. This year saw the wedding of Jackie Merrick to Kathy Bates and a fire ripped through a local farm called Crossgill, which had been left to Matt Skilbeck by the owner. And we saw the first appearance of ruthless Denis Rigg. Also this year saw the final appearance of the reformed Tom Merrick, one of the original bad boys of Beckindale.
January, Alan Turner and Joe Sugden teamed up to buy Home Farm and its land.
January, Tom Merrick returned to Beckindale for a short time.
3 February, Jackie Merrick married Kathy Bates. Annie Sugden lent Kathy her wedding dress she wore 43 years previously, after Kathy's own dress was damaged in a flood at Victoria Cottage. Tom Merrick returned for the ceremony.
11th February, Tom Merrick appeared for the last time.
May, Phil Pearce carelessly leaves rags lying about at Crossgill Farm, which catch fire whilst Annie is trapped inside. A huge explosion rocked as Annie opened a door. Luckily Annie was rescued but was left traumatised.
June, Nick Bates foiled a raid on the village shop and saved the day but could not resist taking some of the cash dropped by the robbers.
July, Ruth Pennington dumped Joe Sugden and left the village to marry her fiance Liam.
August, Kate Hughes and her children Mark and Rachel arrived in the village.
October, Alan Turner sold his share of Home Farm to businessman Dennis Rigg.
November, Dolly Skilbeck embarked on an affair with timber consultant Stephen Fuller. He was killed by a falling tree the same month.