1986 was Emmerdale's fifteenth year in production and it saw the first appearance of Eric Pollard and the last appearance of Pat Sugden, who died in a car crash just months after her and Jack had a baby son Robert Jacob Sugden. This year was eventful in the Beckindale village as there was a murder and car crash and this year saw the appearance of Ross Kemp as Graham Lodsworth, 4 years before he entered his most famous TV role as hardman Grant Mitchell in EastEnders. Mill Cottage being bought back into the show and Eric Pollard's arrival ensured a bit more emphasis on Beckindale as well as Emmerdale Farm.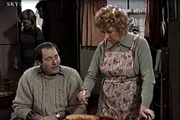 14 January Jack and Pat Sugden visited the hospital for an update on her pregnancy.
21 January, Harry Mowlem is told to collect his stock from Emmerdale.
January, silent Walter left Beckindale to live with his sister in Worthing.
23 January, Nasty Harry Mowlem was murdered by Derek Warner.
28 January, Henry Wilks found Harry's body while on a walk.
30 January, Matt Skilbeck is arrested on suspicion of Mowlem's murder.
4 February, Matt Skilbeck was charged with murder.
6 February, Matt's chance of bail was slim.
February, Alan Turner was struggling to lose weight.
13 February, Henry Wilks had doubts Matt was innocent. Jack Sugden asked him to speak up.
20 February, the Skilbecks had to face the village since Matt's arrest.
4 March. Jack Sugden was hopeful that Emmerdale Farm would get Mowlem's land.
18 March, Matt had a suprise evening at the vicarage.
25 March, Joe Sugden returned to Beckindale after 3 years away.
1 April, Joe Sugden was up for promotion at NY Estates.
3 April, Amos was suffering from conjunctivitis and the police staked out the village looking for Derek Warner. Derek was holding Rev Hinton hostage at the vicarage. Derek Warner confessed to the police that he killed Harry and was arrested.
10 April, Jack rushed Pat to hospital after she went into labour.
22 April, Robert Jacob Sugden was born to Jack and Pat Sugden.
3 July, At Emmerdale Farm Kathy was suspicious that Jackie was seeing someone else. At Home Farm Turner was worried about whther Joe would overpower him as NY estates boss and Meg Armstrong broke Mr Wilks best pipe.
Alan Turner and Joe Sugden applied for job as NY Estates Regional Manager, Joe got the job becoming Alan's boss.
26 August, Pat Sugden died after careering down a hill as she swerved to avoid a flock of sheep. Jack was devastated.
September, the residents gathered for Pat's funeral. Tom Merrick returned for the service, as did Pat's sister, Janie Harker. The wake was held at Emmerdale Farm.
September, Jack struggled with his grief after Pat's death. He had flashbacks.
30 September, Eric Pollard first appeared.
December, Dolly Skilbeck's illegitimate son Graham Lodsworth turned up in Beckindale. He later turned up at Emmerdale.