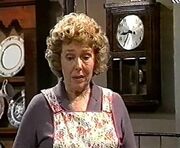 1984 was Emmerdale's thirteenth year in production and it saw the loss of another original character Sam Pearson, who died suddenly in his sleep which robbed the show of a major character due to the real life death of actor Toke Townley who played Sam. This year saw the first appearance of Caroline Bates and also the first episodes written by Emmerdale's longest serving scriptwriter, Bill Lyons, who continues to write for the show today.
January, Alan Turner was paid a visit by NY Estates head boss Christopher Meadows who got word of Alan's gambling, bullying and womanising.
January, Jill Turner, Alan's wife turned up in the village. She took on a temporary secretary for him, Mrs Caroline Bates. Mrs Bates soon became permanent.
21 February, Alan Turner tried to catch a thief. Mrs Bates first appeared.
March 20, Tom and Sandie Merrick returned to the village.
October, Jack Sugden started his affair with Karen Moore.
October, Tom Merrick wanted Sandie to move into Emmerdale Farm.
16 October, Alan Turner testified against Tom Merrick in court.
November, Alan Turner was again in trouble with head office.
22 November, Sam Pearson win in the pumpkin competition. This episode was his final appearance in the show.
27 November, Sam Pearson died in his sleep having won a prize for his pumpkins in the village show the night before. Annie Sugden found her father dead in bed when she went to take him his morning cup of tea at Emmerdale.
December, Annie recieved a letter from Joe and called "Dad" as she looked to his chair then realised he was no longer with her. She sighed.