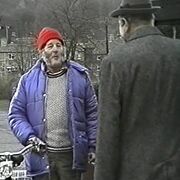 1983 was Emmerdale's 12th year in production. This year saw the show tackle teenage pregnancy. This year saw the first appearance of Archie Brooks and a brief and final appearance of Rev Ruskin, the original vicar. Joe Sugden also left this year, only to return 3 years later.
January, Annie Sugden insisted Henry Wilks became the accounts keeper at Emmerdale Farm after the farm was in financial straits.
January, Jackie Merrick was charged at court for the arson attack the previous year.
March, Sandie Merrick fell pregnant at 17 but refused to reveal the father. It was revealed to be Andy Longthorn. Jackie gave Andy a black eye. Sandie then went to Aberdeen to live near her father who was working on the oil rigs.
March, Turner invited Amos along to a golfing match. The Major took a dislike to Amos.
March, Turner started throwing his weight around at Home Farm and John Tuplin thought him and the rest were being victimised.
May, Rev Edward Ruskin returned briefly to Beckindale while Rev Hinton was away and helped Seth and Meg reconcile. Seth agreed to spend less time at the Woolpack.
October, Joe Sugden decided to leave Beckindale to work at a NY Estates ranch in France.
November, Sandie Merrick gave birth to her baby daughter Louise.
19 November, Archie Brooks first appeared.