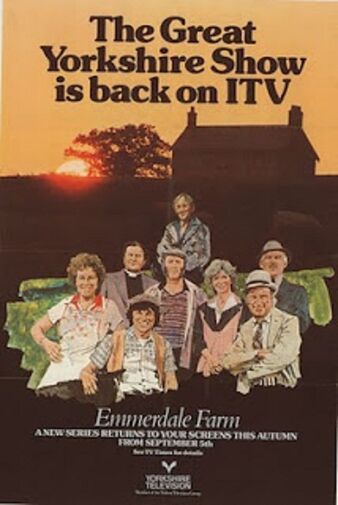 1977 was Emmerdale's sixth year in production. The show celebrated its fifth anniversary in October 1977. This year saw the first appearance of long standing characters Dolly Acaster later Skilbeck and Rev Donald Hinton. Dr Clare Scott left Beckindale this year and was replaced by Dr Jacobs. This year saw a number of dramatic events such as Joe and Kathy becoming live in lovers, a suicide, a storm, a road accident, a pot-holing accident and 3 fires. Life in Beckindale was far from peaceful this year.
August, A great storm broke out over Beckindale and brought with it more than thunder and lightning. A young couple Ray & Sarah Oswell sought refuge at Emmerdale Farm after their own cottage was destroyed by a tree struck by lightning.
September, the residents gathered for the Queens Jubilee (Episodes set in June)
21 June, Jim Gimbel shot himself after his wife and youngest son left him.
4 October, A fire broke out at Emmerdale Farm in a stack of straw and the Beckindale Volunteer Fire Service arrived to fight the blaze. During the fire fighting, one of the members of the team was badly burned.
11 October, A fire broke out in the village and the blame is allocated to tourists that have been staying in the barn that set alight.
Henry Wilks bumped into an old flame from 30 years before.
Joe Sugden moved into Demdyke Row.
1 December, Amos got the wrong idea when he saw Annie and Mr Wilks walking together towards the church.
6 December, at Emmerdale Farm Joe was doing some repairs on the drive when a young man drove past in a car, stopped and got out. He introduced himself as Richard Roper. Richard then caught up with Dolly and told her he wanted to reconcile. Dolly was aghast.
8 December, Amos wondered why everyone was so negative about the play.
13 December, Dolly fought off Richard's pleas for a reconciliation. Annie Sugden put him to rights. He said he wanted to marry Dolly. Dolly said to Matt she was not staying for Christmas.
15 December, Matt was having worries over Dolly and Richard and the Christmas play was all set. Dolly left the village for a bus to Hotten. Would she return after Christmas?
Previous Year 1976

[

]
Next Year 1978

[

]