1973 was Emmerdale Farm's second year in production. This year saw the departure of two strong characters, Jack Sugden and Peggy Skilbeck. Times at Emmerdale Farm proved tough this year but Henry Wilks bought shares in the farm and later bought half to Woolpack off the brewery with Amos Brearly, starting one of the shows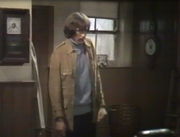 greatest double acts.
16 January, Amos Brearly proposed to Annie Sugden. She turned him down.
30th January, Sharon Crossthwaite was raped and murdered by Jim Latimer.
February, Jack Sugden let Trash, a local tramp stay with him at the old mill. Trash refused to have a wash. He found the watch belonging to missing Sharon Crossthwaite and the police accused him of being behind her disappearance. Trash was scared of the police.
February, Sharon's watch was found by Trash and later identified by Annie Sugden at Emmerdale Farm.
20th February, Trash the tramp "Ian MacIntyre" died after jumping out of a window at the mill after being accused of the abduction of Sharon Crossthwaite.
27th March, Frank Blakey married Janey Harker.
10th April, twins Sam and Salley Skilbeck were born to Matt and Peggy.
April, the horrifying truth about Sharon Crossthwaite's disappearance was revealed to the village after Jim Latimer confessed all to Rev Ruskin.
16th July, Peggy Skilbeck died at Hawthorn Cottage after a cerebral heamorrhage. The Sugdens at Emmerdale were ridden with grief.
August, Mark Proctor, George Verney's nephew turned up in Beckindale and stayed with his uncle at Miffield Hall. He did a few days work on Emmerdale Farm.
September, Charlie Nelson of Rose Cottage was offered £500 by his new landlord to leave his house. Dr Clare Scott recommended him go into a home after he had a fall. Charlie soon won his case to stay at Rose Cottage.
September, Joe Sugden and Carol were becoming an item again.
October, Hilda Latimer, mother of Jim was splattered with mud by delinquents at a bus stop on her way to her sons court hearing for the murder of Sharon Crossthwaite.
October, Henry Wilks moved into The Woolpack and later became partner with Amos Brearly.
October, Jack Sugden left Beckindale once again to move to Rome and write on a script of a film adaptation of Field Of Tares.
Zak Dingle married Nellie Lynch.