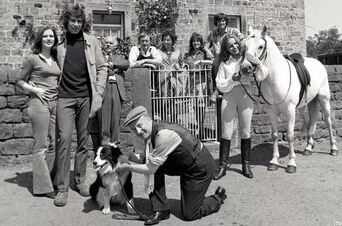 1972 was Emmerdale Farm's first year in production. The opening episode saw the funeral of the farm patriarch Jacob Sugden on the 16th October 1972. This kickstarted a new drama serial that would still be going strong 40 years later in 2012. A few passing characters included Tom Merrick, his wife Ruth and their 3 children, Jackie, Sandy and Tommy. Ruth had been a childhood friend of Jack Sugden. The first 26 episodes were written by the shows creator Kevin Laffan and Neville Siggs.
10 October, Jacob Sugden died aged 56 of pneumonia.
16 October, Jacob Sugden is buried in Beckindale Churchyard. His son Jack returned to the village but did not attend the funeral, instead he stood at the bridge nearby watching the service. Jack later turned up at Emmerdale Farm to claim his inheritance.
16 October, new village resident, Henry Wilks, a just retired Bradford wool merchant, aged 50 visited Emmerdale Farm and demanded Annie Sugden gain him access to his house across their lower meadow. Wilks also sought advice from his solicitor on this matter, ruffling the Sugden's feathers. This was a battle Wilks did not win.
November, Tom Merrick picked a fight with Joe Sugden after Joe was seen having a drink with Tom's wife Ruth, a childhood friend of Joe's brother Jack. Tom Merrick was suspicious of his eldest son Jackie Merrick's resemblance to Jack Sugden and how he shared a similar name.
December, Sam Pearson celebrated his 76th birthday.